Press Statement
For immediate release:
August 10, 2011
Contact:
Kate Slevin, Executive Director
P: 212-268-7474 C: 917-833-9259

Janna Chernetz, NJ Advocate
C: 609.271.0778
New Jersey's Commitment to Transit Has Shrunk Over Past 8 Years
NJ Transit's "Summer of Woe" Shows Need for Increased Investment
With commuters still reeling from an NJ Transit derailment that has snarled travel across the region, the Tri-State Transportation Campaign -- a regional transportation policy watchdog group -- warned today that New Jersey's commitment to public transit had waned. The state has dedicated smaller and smaller shares of its annual transportation capital program to transit over the past eight years, and next year's capital plan will devote an even smaller percentage.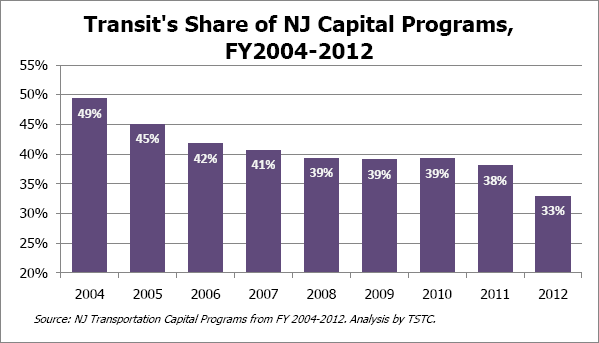 (The transportation capital program includes state and federal funding for NJDOT and NJ Transit.)
"It's been a summer of woe for commuters, who have endured delay after delay," said Kate Slevin, executive director of the Tri-State Transportation Campaign. "NJ Transit does the best it can with limited resources, but train and bus riders have the right to ask why the state's commitment to them seems to be slipping."
In absolute terms, support for transit projects has stayed more or less flat, even though the overall size of the transportation capital plan has grown. In FY2004, state and federal funding for transit projects was $1.27 billion. The FY2012 plan includes just $1.16 billion for transit funding, even though the entire capital plan is a billion dollars larger than in FY2004.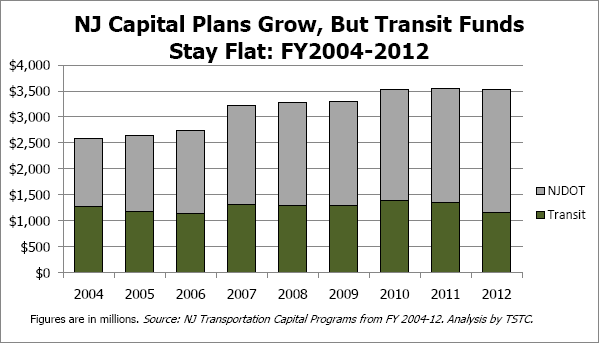 The largest portion of NJDOT's capital plan will go to needed road and bridge maintenance, but the state is also spending significantly more on road expansion than it has in the recent past. Tri-State officials said the state could scale back its road expansions and devote more funding to transit instead.
"If New Jersey brought its commitment to transit back up to historical levels, it would mean less traffic and wear on the roads, and better service for train and bus riders," said Janna Chernetz, New Jersey advocate for the Tri-State Transportation Campaign. "That would be a more sustainable, sensible way to keep New Jerseyans moving."
###
Tri-State Transportation Campaign is a nonprofit transportation policy group dedicated to creating a more balanced, environmentally friendly and equitable transportation system in Connecticut, New York and New Jersey.